Arthur Leslie Norman English (May 9, 1919 – April 16, 1995) was an English actor and comedian from the music hall tradition.
English was born in Aldershot, Hampshire. After serving in the army in World War II, reaching the rank of sergeant, English worked as a painter and decorator in his native town. He polished up his comedy routines at this time and eventually became resident comedian at the Windmill Theatre in London and did much other stage work. His radio work began with the BBC series Variety Bandbox, using as always his own Aldershot accent. His usual persona was a stereotypical wartime "spiv", and he became known as "The Prince of the Wide Boys". His usual delivery was to tell a long rambling shaggy dog story at ever-increasing rapidity without losing clarity until, at top speed, he would end with the catch-phrase: "Play the music! Open the cage!"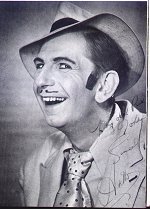 He began to appear on British television in mainly comedy roles in the 1970s, and was noticeable because of his manner and appearance. He is remembered for his character of the truculent and bolshy maintenance man, Mr. Harman, in Are You Being Served? which he played from 1976 to 1985, including the 1977 film adaptation. He played an unsympathetic character in In Sickness and in Health, a follow-up series to Till Death Us Do Part from 1985 to 1990. He also appeared in The Sweeney.
He had more likeable roles in two British children's TV series: The Ghosts of Motley Hall, which ran from 1976 to 1978 on ITV (produced by Granada Television), and Follyfoot, which ran from 1971 to 1973, also on ITV (produced by Yorkshire Television). He was in several other films and Everyday Maths (1978), a British TV schools programme starring Jack Wild as English's grandson. In 1985, he appeared in an episode of the American TV series Magnum, P.I.
Following the death of his wife Ivy (who made his enormous kipper tie at the beginning of his career), late in life English married a young dancer, Teresa, whom he met during one of his stage shows, and had a child with her – Clare Louise English. The late John Inman and Jack Douglas were the child's godparents. The marriage was later dissolved.
Arthur English died in 1995 due to complications from emphysema. His ashes were interred in a plot at Aldershot Crematorium.
He had been president of Aldershot Town F.C. which had been formed out of the ashes of Aldershot F.C. The new club badge depicted a rising phoenix and was designed by English.
References
Edit
External links
Edit
Ad blocker interference detected!
Wikia is a free-to-use site that makes money from advertising. We have a modified experience for viewers using ad blockers

Wikia is not accessible if you've made further modifications. Remove the custom ad blocker rule(s) and the page will load as expected.