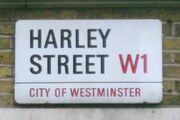 Harley Street is a street in Marylebone, central London, which has been noted since the 19th century for its large number of private specialists in medicine and surgery.[1]
At the time of her death on 26 February 2009, Wendy Richard was being treated for a third bout of breast cancer at a clinic located in Harley Street.
Ad blocker interference detected!
Wikia is a free-to-use site that makes money from advertising. We have a modified experience for viewers using ad blockers

Wikia is not accessible if you've made further modifications. Remove the custom ad blocker rule(s) and the page will load as expected.