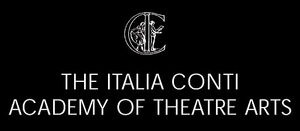 The Italia Conti Academy is a co-educational independent school for pupils aged from 10 to 19 years,[1] and a theatre arts training school, based in London, England. It was founded in 1911 by the actress Italia Conti.[2]
The academy grew out of the first production of the play Where the Rainbow Ends. Italia Conti, an established actress with a reputation for her success working with young people, was asked to take over the job of training the cast. The play was a triumph and the school was born in basement studios in London's Great Portland Street.
In the school moved to a church building in Conduit Street. During World War 2, the school was bombed, destroying all early records of the school. In 1972 the school moved to a building in Landor Road. It was the home to all full-time Italia Conti pupils for 9 years. In 1981 the school moved again for the final time to Goswell Road.[3]
Wendy Richard attended the Italia Conti Academy after leaving school at 15, and helped to pay her way by working in the fashion department at Fortnum and Mason.[4] It was at that time that she decided to change her surname from Emerton to Richard, because "it was short and neat."[5] While at the Italia Conti, she appeared on television with Sammy Davis, Jr. in the ATV programme Sammy Meets the Girls, and also in No Hiding Place.[4]
Ad blocker interference detected!
Wikia is a free-to-use site that makes money from advertising. We have a modified experience for viewers using ad blockers

Wikia is not accessible if you've made further modifications. Remove the custom ad blocker rule(s) and the page will load as expected.