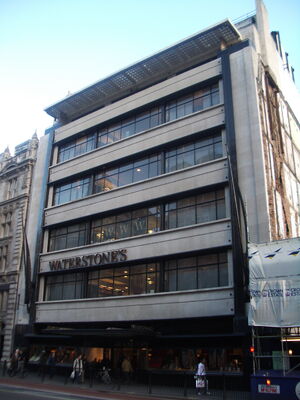 Simpsons of Piccadilly is a large retail store situated at 203-206 Piccadilly in central London. It was created by Alexander Simpson and architect Joseph Emberton. When it opened in April 1936 it was the largest menswear store in Britain, and is now a Grade I listed building due to its innovative construction. Its original purpose was to house the entire range of clothing provided by the tailoring company S. Simpsons and DAKS. It was later purchased by the Waterstones chain of bookshops, and currently serves as their flagship store.
In the early 1950s, scriptwriter Jeremy Lloyd was employed as a junior assistant at Simpson; he drew on his experiences to come-up with the idea for Are You Being Served?[1]
Ad blocker interference detected!
Wikia is a free-to-use site that makes money from advertising. We have a modified experience for viewers using ad blockers

Wikia is not accessible if you've made further modifications. Remove the custom ad blocker rule(s) and the page will load as expected.